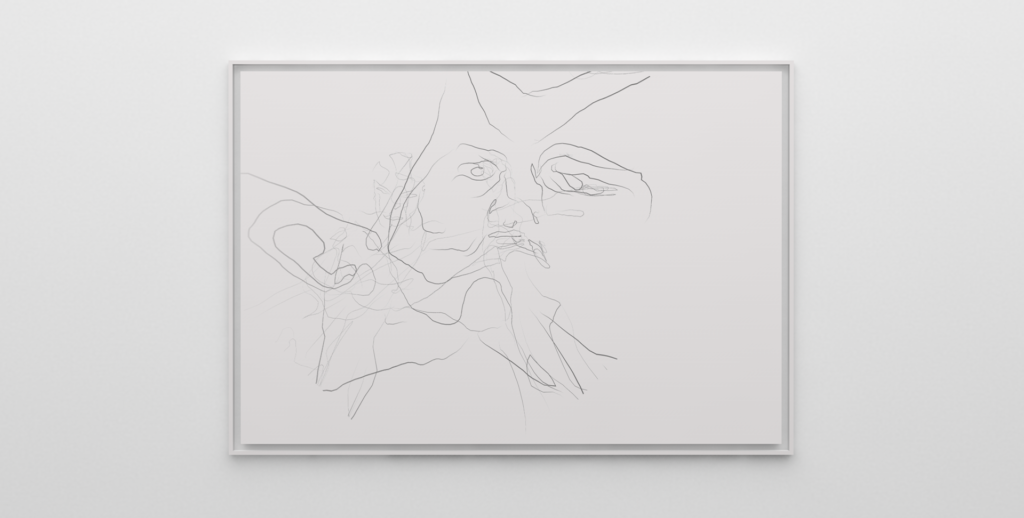 Corpus I from the series ( distance ) in place, 2020, graphite on paper | collaboration with D.O.U.G._5. All images courtesy of the artist.
As external realities we once knew have dissolved and fragmented over the span of months, a sudden reframing of intimacy has become inevitable. Enforced cohabiting with loved ones or strangers; check-ins over apps that mediate care; video encounters that relay oddly official views of hitherto-private spaces—all interactions now manifest with a prickling sensation of detachment in escort.
https://alanguageforintimacy.com/
Sougwen Chung's drawings, wandering and languid, signal a search for intimacy without the privilege of physical proximity. Each was created in collaboration with a robotic arm (which Chung christened "D.O.U.G._5," for "Drawing Operations Unit Generation 5") and made in response to her ongoing experience of self-isolating—to give shape to what the artist describes as a "surreality around distance." The arm, a gradually evolving machine Chung has been drawing alongside since 2014, runs on a recurrent neural network trained to recognize and generate repeated gestures and patterns found in Chung's artwork.
However, this unit departs from previous models that interpreted non-representational, expressionist linework, and instead processes Chung's own sketches of human figures; it is newly tasked with sensing and rearticulating these skeletal traces, which it carries out in unpredictable and fallible ways. On paper, although we see the combined renderings of two symbiotic presences—one sun-seeking, one non-sentient—meeting on the same plane, the markings of one are indistinguishable extensions of the other's. The hybridized bodies are somewhat spectral, murky negotiations that materialize freely over time and space.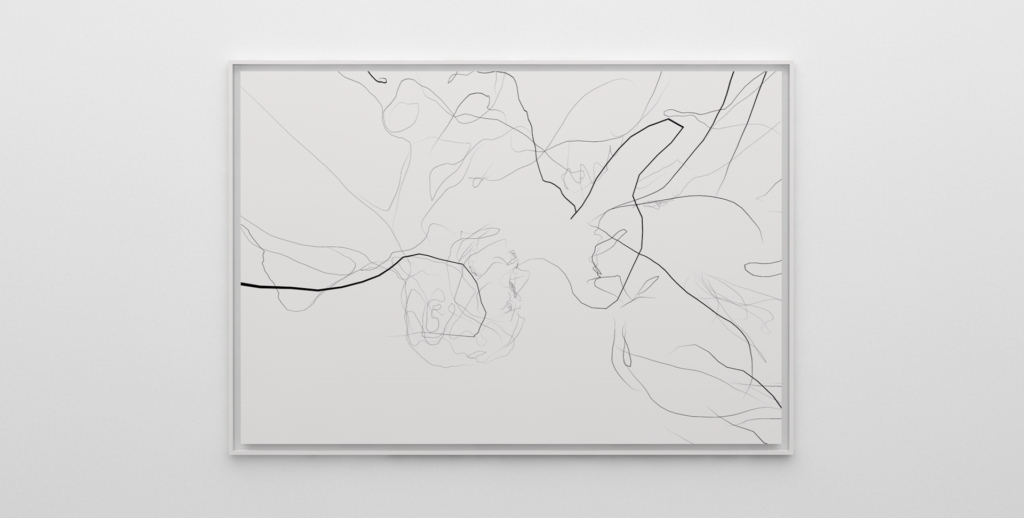 In this gesture-sharing lies a longing for touch—that simple, now precious commodity—but also a kernel of conjurable futures. Our current systems of communication, in this era of profound unrest, beg for more than disruption, but a restart. How can we decenter the individual human being and renounce habitual conditions that lead to continuous drain and existential distress, and instead generate possibilities for collective nourishment, action, and change?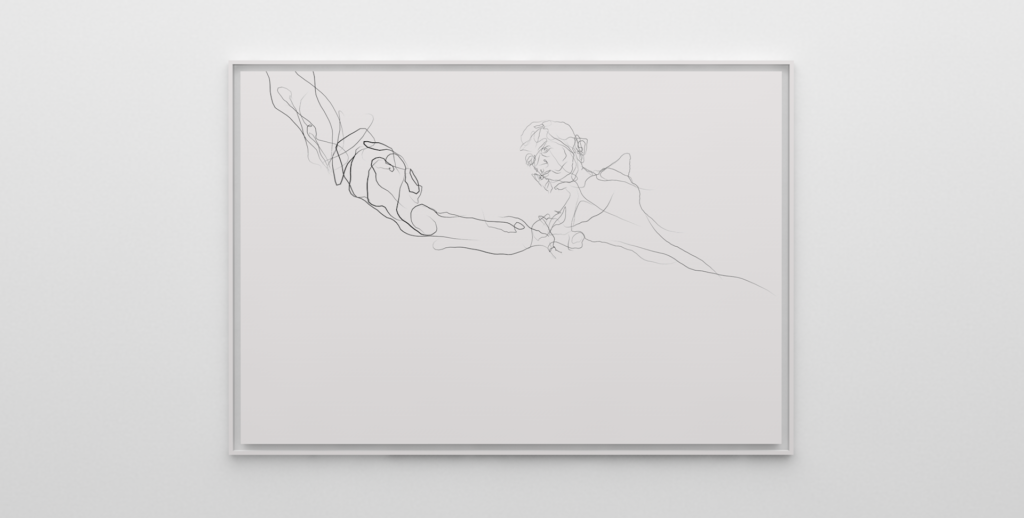 Chung's practice—having moved far beyond simplifying binaries of real and artificial, human and machine—urges the poetic promise of mechanical and artificial systems to imagine forms of closeness in an increasingly estranged world. A result of the human sensorium through and through, her works double down on the entanglement of all bodies (biological, mechanical, and otherwise), never really disembodied but always becoming.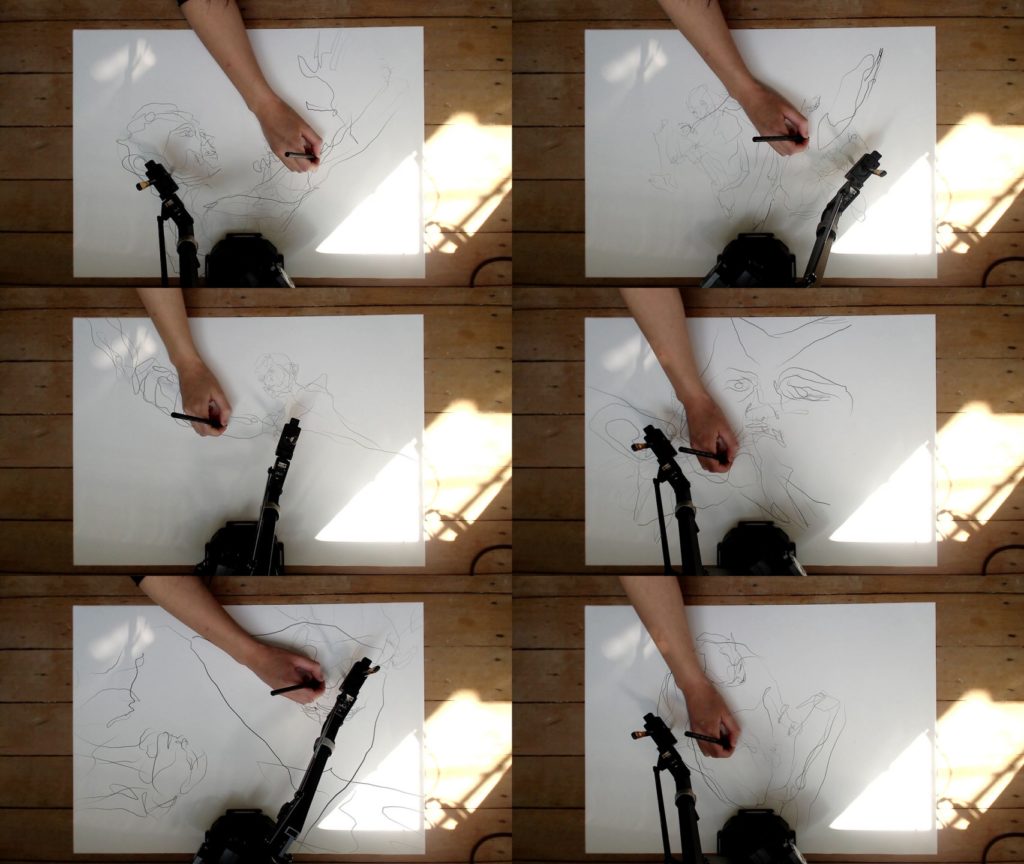 Sougwen 愫君 Chung is a Chinese-Canadian artist and (re)searcher based in New York. Chung's work explores the mark-made-by-hand and the mark-made-by-machine as an approach to understanding the dynamics of humans and systems. Chung is a former research fellow at MIT's Media Lab and a pioneer in the field of human-machine collaboration. In 2019, she was selected as the Woman of the Year in Monaco for achievement in the Arts & Sciences.
Claire Voon is a Singaporean freelance writer who covers contemporary art in Chicago, with a focus on historically underrepresented artists and their practices. She was formerly an assistant editor at Chicago magazine and a staff writer at Hyperallergic. Her journalism and criticism has also appeared in publications including the New York Times, ARTnews, Artsy, New York Magazine, the Offing, and the Brooklyn Rail.